Analysis of China Wood Based Panel Machinery

Opportunities and challenges facing the development and progress of China's wood-based panel machinery

 
---
The overall development status of China Wood Based Panel Machinery Manufacturing Industry has shown that the products have developed from low-medium-end to Mid-high-end levels, from mechanization to automation and intelligence, and production capacity has developed from low-medium production capacity to medium-high production capacity.
Up to 2020, there are more than 100 wood based panel machinery manufacturers in China, with annual sales of more than 4.5 billion CNY. The manufactures could supply more than 800 kinds of wood based panel machinery products in 39 categories. China owns the most comprehensive and complete wood based panel machinery industry structure and product categories in the world.
The development and growth of wood-based panel machinery manufacturing industry is inseparable from the increase in the production capacity of wood-based panel products, especially the increase in the single-line production capacity of wood-based panel production lines, which shows that our wood-based panel machinery manufacturing industry has made great progress in technology, enters a whole new period of development.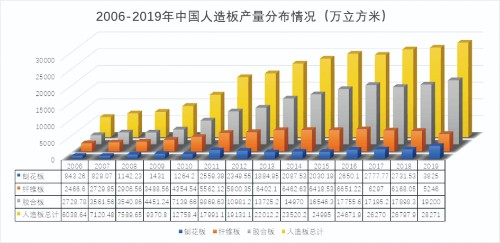 With the improvement of the production capacity and performance of the domestic wood-based panel host equipment, the products of manufactures producing various supporting equipment have also been greatly improved in terms of production capacity, performance and quality.

Among them, the domestic plywood machinery has been greatly innovated compared with the past, and some new equipment has appeared, which has improved the plywood production process and production method, showing the development characteristics of continuity, automation and high production capacity. For example, the emergence of log debarking, veneer rotary peeling, and veneer cutting production lines has basically realized the automation of veneer production, improves the production efficiency.